Fes is a northeastern Moroccan city often referred to as the country's cultural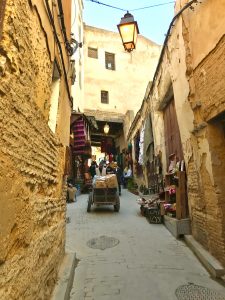 capital. It's primarily known for its Fes El Bali walled medina, with medieval Marinid architecture, vibrant souks and old-world atmosphere. The medina is home to religious schools such as the 14th-century Bou Inania and Al Attarine, both decorated with elaborate cedar carvings and ornate tile work.
Fes is the second largest city of Morocco. There were about 1 million people in 2010. It is the capital of the Fès-Boulemane region. The city has been called the "Mecca of the West" and the "Athens of Africa". Fes Bab Bou Jeloud 2011 Bab Bou Jeloud, "The Blue Gate" of Fez. Fez is the former capital. It is one of the country's four "imperial cities". The others are Rabat, Marrakech and Meknes. "Fas el Bali", one part of the city, is a UNESCO World Heritage Site.
Chouara Tannery is one of the three tanneries in the city of Fez, Morocco. Built in the 11th century, it is the largest tannery in the city. It is located in the Fes el Bali, the oldest medina quarter of the city, near the Saffarin Madrasa along the river. Since the inception of the city, the tanning industry has been continually operating in the same fashion as it did in the early centuries. Today, the tanning industry in the city is considered one of the main tourist attractions. The tanneries are packed with the round stone vessels filled with dye or white liquids for softening the hides. The leather goods produced in the tanneries are exported around the world. The yellow leather dyed with saffron is considered the most valued and is traditionally used to make pointy-toed slippers called babouche. It should be noted that smell is not for the weak of stomach, so it's best to accept the sprigs of mint offered at the door before taking in the sights.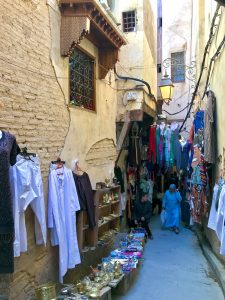 Fes El-Bali: The old walled city of Fez is a functioning medieval town and is on the UNESCO World Heritage List. The medina was founded in the year 800. No car can drive here and the only way to get around is on foot or with a donkey. The medina is officially the largest car-free zone in the world. This ancient city consists of a maze of about 9400 streets and it is impossible not to get lost. The medina overwhelms you and that is the charm of this old medina! The streets are narrow and covered. Everywhere you see shops selling various pottery products, clothing, shoes, herbs, leather, argan oil, etc.