Havana is an enchanting and captivating city, with the twists and turns of its compelling history and rich culture laid bare in the surprising diversity of its architecture and kaleidoscope of citizens. The original San Cristóbal de la Habana settlement, established on July 25, 1515, St Christopher's Day, was actually founded at modern-day Batabanó, on the south coast of what is now Mayabeque province. It wasn't until November 25, 1519, that the city was relocated to the banks of the large bay known as the Bahía de la Habana.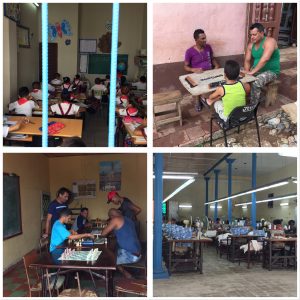 Fun facts about Havana
Despite what many people assume, Havana is a safe city because the police presence on the streets is heavy. Cuba is the safest country in the region.
Havana is home to the Cuban National Ballet School, with approximately 3,000 students making it the biggest ballet school in the world.
In 1982, Old Havana was added to the UNESCO World Heritage List because it exhibits more than 2,000 hectares of almost all the Western architectural styles seen in the New World.
The Christ of Havana is a large sculpture representing Jesus of Nazareth on a hilltop overlooking the bay in Havana. A classic story told by locals is that the statue is crafted in such a way that Christ is holding an invisible cigar in his right hand, and an invisible mojito in his left hand.
"My mojito in La Bodeguita, My daiquiri in El Floridita," reads a handwritten sign, seemingly autographed by Ernest Hemingway, which hangs at La Bodeguita Del Medio in Havana's Old Town.
In 1964, Fidel Castro banned The Beatles' music in Cuba, but by 2000, he had changed his tune and was at the dedication of Havana's John Lennon Park unveiling his statue. "I too am a dreamer who has seen his dreams turn into reality," Castro told the crowd gathered.
Not your local drugstore: With its dark wood shelves and porcelain medicine
jars, Old Town's Johnson Drugstore looks more like something out of Harry Potter
Singer Gloria Estefan was born in the Cuban capital on September 1, 1957. Her dad was a bodyguard for President Fulgencio Batista and when Fidel Castro rose to power, she moved to the United States with her family.
In 1837, after its first railroad was constructed in Havana, it made Cuba the first Spanish-speaking country and fifth country in the world to have a railroad.
Cuba has a 99.8% literacy rate, which is one of the highest in the world.
Until 2011, an import ban in the country meant that the only cars found on the roads were classic cars from pre-1959. Since 2011, the ban has gradually been lifted to allow more modern vehicles on the roads.
Until 2008, Cubans were not allowed to own cell phones.
Cuba has two different currencies: One type is used by natives, while tourists use the other currency.
The United States pays Cuba over $4,000 annually to lease Guantanamo Bay. Cuba has not accepted the payment since 1959.
In Cuba, grocery shopping requires patience, determination, and lots of time.
People pay for staple food and supplies with coupons from their libretto.
A libretto is a ration book with coupons for monthly food supplies such as rice, sugar, meats) and basic supplies such as cooking fuels. Food and basic supplies are rationed due to economic challenges.
Population: 11 million people (2019)
Capital: Havana 2.1 million inhabitants (2019)
Name: Republic of Cuba
Government: Socialist republic
Official language: Spanish
Religion: mainly Christians (65%, of these mainly Catholics)
Currency: 1 Cuban Peso (CUP)=100 centavos
National Symbols: Royal Palm Tree (national tree)Cuban trogon, also called tocororo (national bird), Mariposa butterfly flower (national flower)
History: Cuba was a Spanish colony until the Spanish American war 1898. Christopher Columbus landed on Cuba on 12 October 1492 and the first Spanish settlement was founded in 1511. After the Spanish-American War, Cuba became a protectorate of the USA. On 20 May 1902, Cuba became fully independent republic. Since 1965 Cuba is under communist rule. The country was lead by Fidel Castro from 1959 until 2006 when he handed the presidency over to his brother Raúl. Since 2018, the president is Miguel Díaz-Canel.